Introducing our first SASSY guest
Sarah from
Home Sweet
.
"Around a month and a half ago, I made a Valentine's wreath for our front door. I have loved seeing it every time I come home, but I decided the other day that now that it's mid-March, it's about time to get rid of the pink and red hearts. So I began a search on Pinterest, and immediately found something that caught my eye: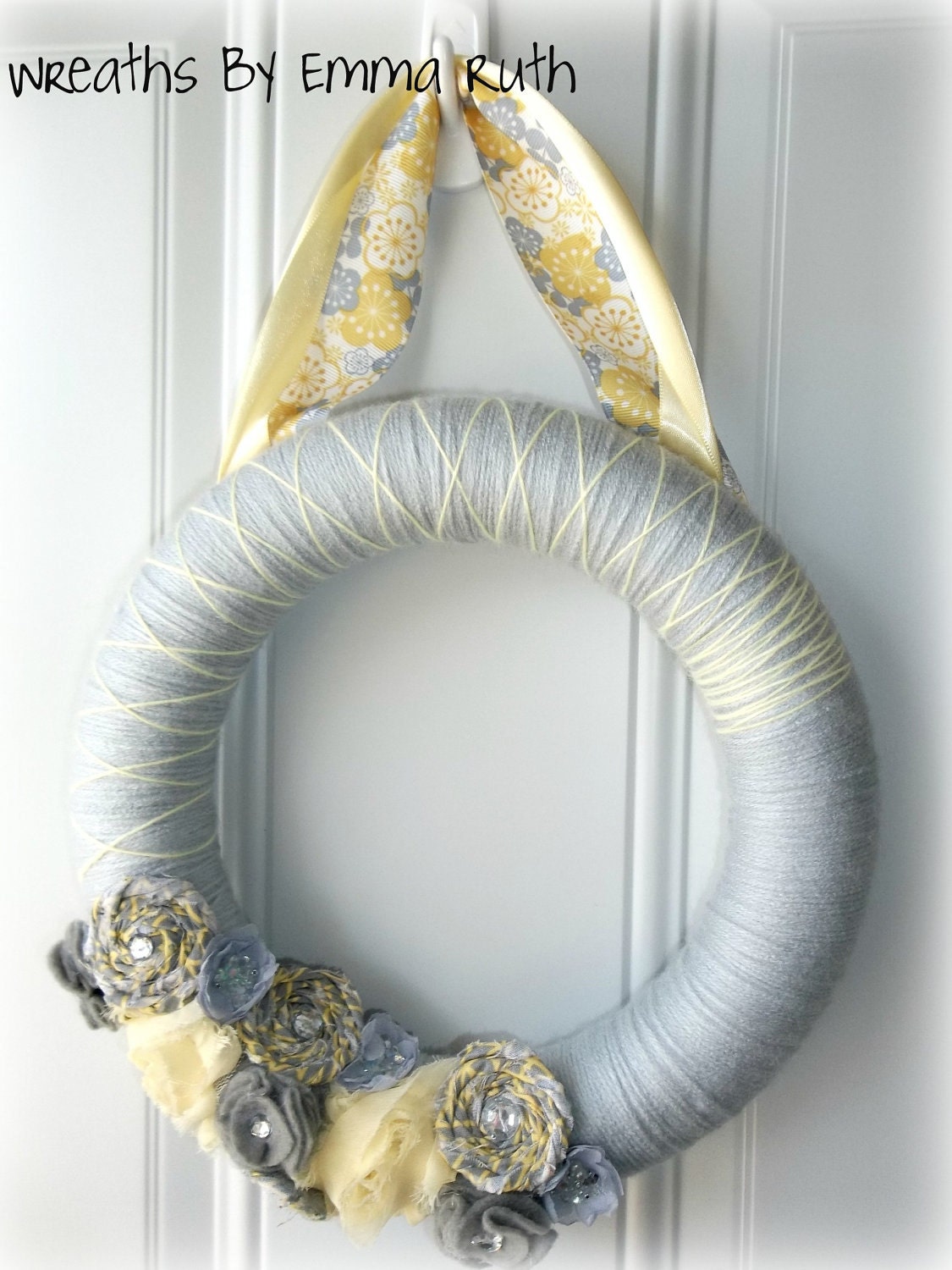 I am so loving grey and yellow, lately. Anyway, as pretty as this wreath is, it isn't exactly my style, for better or for worse. I loved the flower concept and I also really liked the ribbon hanger, but all of the tulle at the bottom wasn't doing it for me. However, it made a great jumping off point.
So, here's my version. I've got a little tutorial for you if you'd like to make something like this yourself. First, gather your supplies. Along with what you see here, you'll also need thread, a needle, and a hot glue gun.
Next, start wrapping your wreath form with the yarn color of your choice.
Done! (This part is the most tedious and the least fun.)
Next, make your flowers. I started by cutting this shape out of a piece of felt. You can see that I sort of free-handed it and it's not perfect -- doesn't have to be.
After you've got your shape cut out, hand sew a piece of thread along the bottom, straight edge. Then, pull the thread slightly until the shape curls into a "flower". Sew the two ends together.
Next, cut out a circle and sew it in the center of the flower. Repeat these steps until you have as many flowers as you'd like to add.
Put the flowers aside. Cut strips of the fabric of your choice -- again, this step doesn't need to be exact. I never measure. I usually just eyeball things. You'll probably need several strips.
And hot glue those babies randomly around your wreath.
I also cut a wider strip so that I could make a hanger. This is a picture of the back of the wreath.
Finally, figure out the arrangement of your flowers and glue them on as well. And...done!
Here are a couple wider shots for ya:
I am so pleased with how easy this was and the end result. If you've followed me at all, you're probably beginning to get the sense that the style of this wreath is all over my home. This is what my stuff looks like. And I'm okay with that. I like it. Total cost?
Nothing.
I reused the wreath form from my Valentine's Day wreath (figured I'm going to want to make a different one next year, anyway), and the other materials I had on hand. Total time?
About 2 hours.
But it took me a day and a half. When you have little ones, you have to do these kinds of projects in stages (which is why the background in my tutorial changes
three
different times -- count 'em). Have any of you made a spring wreath for your door? I'd love to see what you've come up with!
Thanks for reading!"