...and SASSY she is!
I am happy to introduce you to
These are some of the things that can be used to describe Kari at one point or another in her life... loving, wife, funny, sarcastic, skinny, tomboy, mom, neat freak, loud, friend, mature, daughter, chubby, cheap (in the good way, people), happy, old fashioned, motivated, Ohioan, single mom, dedicated, trendy, athletic, outgoing, bitchy, silly, high energy, overstressed, crazy, fun, creative, poor, sick, tired, student, sweet upbeat, hard working, crafty.
She is currently a stay at home mom to two funny and loving girls, a wife to one great hubs as well as a loving daughter to my parents, a supportive sister who loves her little brother and one stellar auntie.....
_________________________________
favorite things:
(sung like Mary Poppins!)
Goodwill stores, especially those close to upscale areas. Those people give choice "junk" away!

Oberweis Chocolate Peanut Butter ice cream. Hmm. Hmm. Hmm.

Pottery Barn, Restoration Hardware, Ballard Designs catalogs. For many reasons: they are free. they give great inspiration. they are free.

the color turquoise. Love me some blue/green.

nap/bed time. Can I get an A to the men??

pinterest.com. Never been?? So much fun!

Garage sales, yard sales, tag sales, rummage sales....whatever you call them, I love them. Especially the ones who know how to price their items. 2 bucks for a pair of shorts? No thank you. 50 cents for a pottery barn vase? I'll take two please.

Ballatore sparkling wine. Soooo goood......sometimes tooooo gooood. ;)

picnics. Reminds me of when I was little. Fresh air, sandwiches in waxed paper? Sign. Me. Up.

Girls Night Out ( or GNO for those abbreviation-oriented). Can I get a heck yeah?? :)

IKEA. The meatballs. The carts that go down the escalator alone. The cheap schtuff that you really don't need but I mean, hey- its 99 cents so why not??

Dollar Tree. "nuff said......

Farm stands/farmers markets. I love that these are "trendy" now and hope they always stay that way. I grew up in a very rural area and these kinds of things were there because that is how we lived. Off the earth, fresh, cut that day. No wonder us kids loved fruits and veggies growing up.

Ohio State Buckeyes. Love the tradition, the excitement of the fans, the game weekends. Nuthin' speaks fall to me like Buckeye football. Well, that and cider donuts.....

spray paint. It can change an entire room with just a 5 bucks and under investment. PS- Home Depot has the least expensive premium (fashion/trendy colors) spray paints. Wal Mart has the least expensive basic (white, black, red) spray paints.

flea markets. But don't take the kids. Trust me.

Chicago's Mag Mile. Any time of the year is great but my two faves are summer and Christmas.

Blogging. It has saved me thousands of dollars in therapy, I am sure. :)

The Real Housewives Series- particularly NYC, Bev Hills and OC...I.Cant.Stop.Watching.

Date nights- I only wish we could have them once a week instead of once a month. :)

"Fun Wednesdays" as we call them in the summer or "Family Sundays" as they are known the rest of the year. Basically just a" the four of us" days where we do something inexpensive yet fun. No outside friends allowed just the family unit. It works and we all look forward to it more than anything else. Even Christmas. :)
______________________________
Here are some of the great projects that you can expect to see over at A Grace Full Life!
this is an old cabinet door that she repurposed to
display her wedding vows! I LOVE this!!
__________________________________
things collected from dollar stores, goodwill,
walmart, and dollar general! Super cute!
__________________________________
what do you do when you have an old frame, a skeleton key,
and some liquid nails... create something adorable, of course!
It was so fun to get to know you better, Kari! You are hilarious!
I'm glad to be your new blog friend!! Go check out her blog! She is adorable!!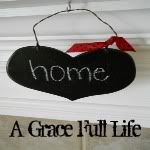 Happy Sunday!